semaglutide

for
weight loss
Semaglutide: The Modern Weight Loss Panacea
If you want to lose weight in a healthy, consistent, and sustainable manner, Semaglutide should be your first consideration after diet and exercise. Available as Ozempic and Wegovy, Semaglutide effectively controls blood sugar levels. 
If you have type 2 diabetes, your body is unable to utilize insulin effectively. As a result, the amount of sugar in your blood cannot be controlled. Patients often try a wide range of medications before they realize that consistently and effectively controlling sugar levels isn't as easy as it sounds. Semaglutide achieves this task while reducing the risk of a stroke, heart attack, or even death. Since Semaglutide has been approved for weight loss and long-term weight management in non-diabetic patients, we can take advantage of these additional benefits.
At Weight Loss MD, we use the popular, safe, and effective weight loss injection, Semaglutide, to help you shed excess pounds and achieve a healthy weight. Semaglutide is most effective when combined with a low-fat, low-calorie diet and a balanced exercise program. 
Semaglutide weight loss injections are incretin mimetics, i.e., they enable the pancreas to release the perfect amount of insulin when blood sugar levels are high. Patients who receive this injection also notice a decrease in appetite, which further facilitates weight loss. This happens because the movement of food through the stomach is slowed down. 
If you've been struggling to reach your goal weight, Semaglutide will help you achieve guaranteed results and enjoy a healthy and vibrant life.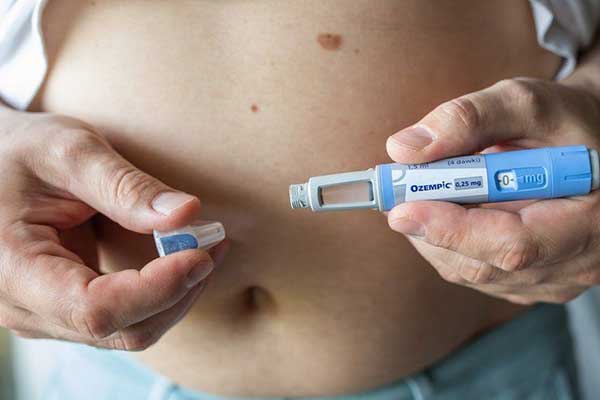 Start Your Weight Loss Journey with Semaglutide at Weight Loss MD
We're strong proponents of Semaglutide weight loss injections and Semaglutide pills. Dr. Chioma Okafor-Mbah, MD, dipl.ABOM, believes that weight loss is contingent on good eating and exercise habits. However, she also believes that modern technology and advancements in science and medication must alsobe fully utilized to improve weight loss results. 
Dr. Okafor-Mbah uses Semaglutide as an anti-obesity medication for patients struggling to manage their weight. Since Semaglutide is an FDA-approved injection, it should notbe prescribedby untrained and unqualified personnel. 
Make sure you consult a board-certified doctor who has experience in treating obesity with Semaglutide. They should have a complete understanding of the usage, dose, application, and efficacy of Semaglutide, as well as the side effects and appropriate monitoring.
Dr. Okafor-Mbah routinely uses Semaglutide to treat overweight and obesity in adults. She combines Semaglutide with a diet and exercise plan. In some cases, additional treatment plans may be used, e.g., B12 injections, weight loss peptides, FDA-approved weight loss medication, and MIC "fat burner" injections/oral supplements, among others. 
Each patient has a unique biochemical makeup. When the right treatment plan is used, their chances of losing weight increase significantly. You may have worked with many doctors, dieticians, and trainers in the past who have struggled to help you reach your goal weight. This often happens because of a lack of understanding of the patient's unique biochemistry. 
At Weight Loss MD, we understand your requirements and create a personalized plan that hits the nail on the head. When one-size-fits-all programs are replaced with individualized, patient-centric, and robust programs, the outcome is spectacular. By adding Semaglutide to our weight loss programs, we help you shed excess pounds and become a healthier version of yourself.